Career Transformation Programme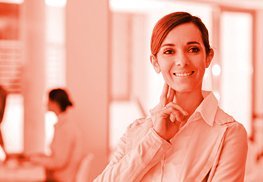 Having doubts about your capabilities or your impact at work is something that happens to us all at times.
However, if your lack of confidence is affecting your ability to do your job, your career potential or your life outside work. Then it's time to do something about it.
There are many reasons for women's lack of confidence at work, some of which may apply to you. Such as the 'Imposter syndrome' – when you think any moment you will be found out as a fraud in your job due to your high expectations.
Perhaps your company culture is traditional and alpha-male dominated, which doesn't recognise your style of confidence.
You may be returning to work after a career break or have an unsupportive or dominating manager. Or maybe you lack a mentor or role model and so have a gap in your communication skills, like assertiveness, group meetings or managing your boss
Whichever of these applies to you, my Career Transformation Programme will empower you to feel and project confidence. As a result to achieve your potential. This is what a few of my clients have said
I have developed my communication skills and confidence, which as an introvert I struggled with. Now I have stopped comparing myself to my colleagues and focus on my achievements
The culture at work is very competitive and fast moving and I didn't feel able to speak up in case I was judged or said the wrong things. Using new techniques and  changing perspective about my colleagues has enabled me to feel comfortable being me at work
After being at home with children I felt I had lost my identity and purpose in life.  I identified that working for myself was the answer and it's fantastic to have the support to do it.
Career Transformation Programme:
My programme is structured to cover the key issues that clients wanting to be more confident at work need to explore. However, I also tailor it to fit your individual needs and issues.
Gain clarity on your confidence issues and triggers 

Identify and challenge any beliefs about yourself that are self-sabotaging

Learn techniques and tips to demonstrate and project confidence

Gain the courage and the mindset change to speak up and take risks
To find out more or have a chat about my Career Transformation Programme please contact me
">Hi Jo, I want to say thank you for your support in improving my confidence at work, with techniques to deal with situations where I let my self-doubts get the better of me. In the short time working with you I've learnt how to speak out in group meetings, get my point across so I'm heard and how to react to different personality types. I've noticed real results with the techniques you gave me and I'm well on my journey to becoming more assertive. I look forward to working with you again in the near future.
Mia, London
Don't forget to sign up for my My Top 10 Confidence Tips and other great free content