Self-Worth Transformation Programme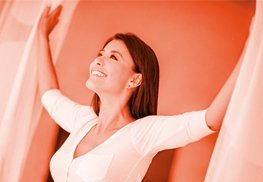 If you find it hard to speak up assertively, worry what others think of you or focus on pleasing people and can't say no, then it is likely that you have low self-confidence and self-worth.
We all struggle with self-doubts, those little voices in our head that question everything we do or say. They stop us trying new things and believing in ourselves and can lead to inertia, confusion, anxiety, and stress.
The good news is that you can learn to overcome your self-doubt and build up your self-worth using the programme I have developed, through my own personal experience and my time spent coaching hundreds of women.
We would start by helping you to understand your thinking style and to challenge the negative beliefs you have about yourself. I would then share with you exercises and techniques to develop your inner confidence and enable you to truly value yourself.
As we work together to build your confidence you will notice positive changes in your life. The benefits described by other clients are:
"I now trust myself rather than just listening to and trying to please others"
"I've identified what success is to me and don't feel the need to compare or judge myself"
"I'm enjoying my life in the present rather than worrying about what I need to do or get to be happy"
Why not book a FREE chat to explore the programme further?
My 'Self-Worth Transformation' 4 Month Programme is structured to cover the key issues that my clients who want to silence their self-doubts and to build confidence need to explore, as well as being tailored to fit your individual needs.
Gain understanding of your confidence issues and causes
Challenge your self-doubts and negative beliefs
Change your mindset to believe in yourself and build your self-worth
Gain the courage to speak up and take risks
Learn techniques and tips to boost your confidence in every situation
Contact me to book your FREE chat and find out how my programme can help YOU!
I can't praise Jo and her coaching enough for the changes she helped me make in my life. I had always been a negative person and found life quite hard work. By learning and practising some simple techniques I have started to appreciate myself and what my strengths are. As a result, I have learned to trust the positive side of my personality, so I can enjoy my life in the present and be excited about the future.
Jane, Harlow