Archive
I realise that happiness means very different things to different people, however when I recently read a blog about the path to happiness I was quite shocked.
The writer suggested that in order to be happy we need to build a picture of our perfect life and list the things we need to be happy. They could be an Aston Martin, a high-flying career, weight loss or children.
Now I'm all in favour of setting goals and having a vision or direction in life, but as I'm sure you're aware, happiness doesn't come from a relationship, a job or a car, but from inside us.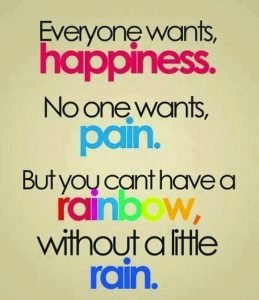 You may be thinking, that's easy for me to say, but how do I actually achieve it?
The answer is to focus on 3 things – thoughts, feelings and your attitude to life.
Thoughts – We have tens of thousands of thoughts a day, that pop into our heads. some are positive, some are negative and some are "what shall I have for tea'. We don't have control over those, but we can choose not to engage in the negative ones
Feelings – Our feelings are the result of our thoughts. In the same way as thoughts, they will pass and be replaced by a different feeling. So if at anytime you are feeling uncomfortable, sit with it and remember this will pass and you are still okay.
Attitude to life – This is about having the courage and confidence to go for life and take risks even when you feel insecure
When you work on all of these, you'll find a greater contentment and happiness. Then you can still aim for that Aston Martin!
Enjoy
Jo
Even the word rejection feels hard and hurtful and it triggers in me thoughts about "not being good enough".
Not being clever enough, pretty enough, thin enough, kind enough or funny enough, they all feel painful.
Being rejected can be a bad experience whether it's personally or professionally as no one wants to be snubbed or told No.
These rejections are often part of our learning process and lead to a more suitable future opportunity. But when you're suffering the hurt of a recent rejection, how can you cope and overcome your not good enough thoughts?
ONE – Don't Overthink It
By reliving the experience and the uncomfortable feelings constantly you are keeping the memory alive in reality and will be unable to let it go. Analyse it to find any lessons you can learn then change your focus to more positive events.
TWO – Forgive Yourself
Blaming yourself and listening to your inner critic will only make you feel worse. So accept responsibility for anything you may have done wrong and then let it go
Three – Forgive The Other Person
This may sound very tricky but rejection is a natural process and you will have rejected people in your time. think back to those experiences and try to empathise with the other person. Remember that forgiving someone allows you to let go of your pain it doesn't mean you always condone another's behaviour
Four – It's Not Always About You
You may never know the reason for your rejection however it is often not to do with you personally but about circumstances or the other person. So accept this and be comfortable with not knowing
Five – Have The Confidence To Try Again
You may think that there's no point in trying again as you'll only get the same outcome. However the quickest way to rebuild your confidence is to step out of your comfort zone again and show everyone that you trust and value yourself
If you find this article interesting please share it via the buttons below and leave me your comments.
If you haven't yet, do sign up for my free Top 10 Confidence Tips
Enjoy
Jo
 How To overcome Rejection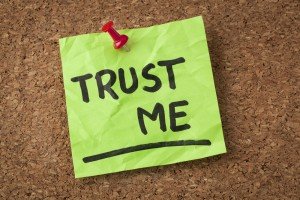 Self Acceptance Step 5 – Trust Yourself
Life is all about trusting someone or something, the important thing is to know where you are placing that trust. Perhaps you trust the bank to look after your money, the waiter to advise which dish to choose or your friends on whether an outfit suits you? These could all be sensible decisions, but how often do you trust yourself and your own intuition?
A key part to accepting yourself is trusting your gut feeling and the decisions you make whatever anyone else says. Obviously you're not perfect and things may occasionally go wrong, but doesn't that sometimes happen when you take others advice anyway?
Intuition and self trust are like a muscle, they need regular exercise to develop and become stronger. So here are a some exercises to give your gut feeling a workout and build up your self-trust:
1. Think back over the last year for any examples of when you trusted your own gut feeling over a decision or action. What happened in those situations?
2. Think back over the last year for any examples of when you were persuaded to a different decision or action by someone or something else. What happened in those situations?
3. Challenge yourself for one day to only trust yourself in all the decisions and actions you take. This means really focusing on what you actually think or feel not what you believe you 'should'.
Let me know how you get on.
Self Acceptance Step 5 – Trust Yourself